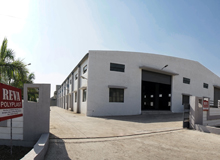 As leading plastic pipes manufacturers in India, we have been doing well in maintaining our reputation in this domain. Our in house research and development units have helped us with innovative technologies and facilities which are the requirements of the present system. The infrastructure includes a well equipped state-of–art facilities consisting of warehousing units, manufacturing units, packaging units and quality control units which are maintained by our skilled professionals
Production Unit
The total area is 54,000 sq. ft where production are is 45,000 sq. ft. with the production capacity of 15,000 metric tons per annum. for our continuous improvement we follow ISO 9001:2008 is our production unit.
R&D and Testing
We have our own laboratory and R&D departments with well equipped instruments and experienced technical persons in order to test our products of every batch as per BIS standard.
We have testing instruments of latest technology of each product. Our each product are first tested at our laboratory and then only sent to the market. So, there is no chance of damage in quality and as a result our brand "RIO" has been as superior performance in domestic and international market.
The Team
At Reva Polyplast, our belief and confidence has always been on our expertise team of professionals who have been a great support at all times. Their experience and in-depth knowledge in the area of manufacturing plastic pipes and fittings has assisted us to capture the market in a big way. We have a team of quality controllers, production staff and administrative controllers who are well acquainted with the latest developments and tools which have become a trend in the current scenario.