Welcome To Reva Polyplast
Reva Polyplast has been incorporated in 2016 as CPVC pipes manufacturers in India. We are known for our specialization in the field of manufacturing CPVC pipes and fittings which has helped us to earn an enviable reputation till date. Our financial stability and a strong work force have given us the confidence as being reliable CPVC pipes manufacturers thus offering our clients with quality based products. This has paved our way towards a better business at a consistent pace.
Our motto has always been to offer superior quality products at the best competitive price. An experienced and highly qualified technical team in association with skilled quality managers in this field proves to be a boon for our company. Being emerging CPVC pipes manufacturers in India we have focused on providing customized services and on time delivery of our products. Sustaining a long term relationship will lead us to acquire a major customer base by supplying the desired range of CPVC pipes and fittings.
By following strict quality control measures, right from raw material procurement to final packing, the company has received ISO 9001:2000 certification from ICS. With an aegis of a well-developed infrastructure, modern testing facilities, advanced research and development facilities and experienced team of professionals, the company has proved its mettle in the Plastic industry in a very short frame of time.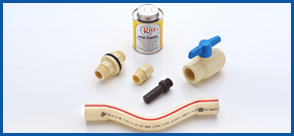 Pipes & Fittings Accessories